Hit by a car as a pedestrian? 10 steps to take when hit while walking
If I or someone were hit by a car as a pedestrian what should I do?
You are not alone if you want to know what to do if you got hit by a car while walking.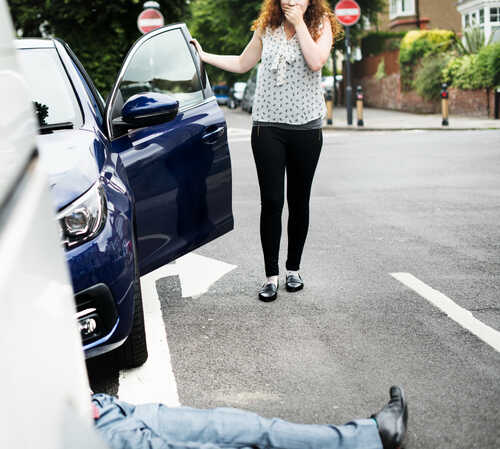 This is because thousands of pedestrians get hit by automobiles every year which results in both minor and serious injuries and death.
In this article, I will share with you tips on the best steps you need to take when involved in a car accident while walking.
What to do and how to handle car-pedestrian accidents
After being hit by a car while walking, take action immediately.
The most important things to have in mind include the following:
Try your best to stay calm. Determine any sustained injuries and remain calm. Staying calm means, you are more aware of your surroundings and protecting yourself from further harm.
Call the authorities if you are in a position to or if you witnessed the accident. You can request someone to make the call if you cannot do it yourself. You should involve the authorities even if you don't think you are hurt
Get the auto driver details. A pedestrian involved in a crash with a car should access the driver's information. Get the name, license plate number, insurance, and contact information.
Take pictures if possible and keep the clothes you wore during the accident as they are. You may also write down everything that happened leading to the accident while it is still fresh in your mind
Get medical help. Priority after any type of accident is to seek medical attention. Even if you only sustained minor bruises after being hit by a motor vehicle still seek medical attention.
Contact a pedestrian crash attorney. Car pedestrian accidents are best handled by qualified attorneys. The best personal injury lawyer will assess your case, help you handle insurance companies, and ensure you get justice and worthy compensation.
The tips above on what to do if you or someone was in a pedestrian accident are the top steps that will protect your right and help maximize your personal injury compensation claim.

Some of the actions you take depend on if the injury sustained are minor or serious.

If during a pedestrian accident with a car you or the driver or their passenger got seriously injured, call 911 for an ambulance immediately for medical attention. That's number one priority.
Pedestrian car accident FAQ
What causes being hit by a car while walking?
A pedestrian hit by a car is a traumatic experience and dangerous. Accidents happen for different reasons. However, they may be prevented.
Car pedestrian accidents may be caused by the following:
Distracted drivers
Impaired drivers
Recklessness
Impatience on the part of the pedestrian or the driver
Bad weather causing slippery roads
Dark clothes worn by pedestrians at night, making them invisible
Ignoring traffic rules
Road construction causes people to walk where they are not expected to
Multi-lane roads pose a danger because of changing lanes and speeding
How to avoid a car pedestrian when walking in the street?
To avoid auto pedestrian accidents, you can take some precautions. They include the following:
Never assume that other road users are paying attention to you even if you have the right of way. To avoid accidents, practice defensive walking when you are a pedestrian and defensive driving as a driver
Use designated areas to cross roads, such as crosswalks and flyovers
Avoid walking in the street so that you don't block traffic. Sidewalks and other designated areas are the best for avoiding the chance of a pedestrian getting hit by a car. 
What are pedestrian legal options after a car crash injury?
If a pedestrian gets hit by a car, the person has legal options.
They can file a claim or a lawsuit against the driver and their insurance.
The person can also sue other drivers, companies, or government entities that contributed to the accident because of their negligence.
A car pedestrian accident victim can get financially compensated for
pain and suffering
property damages
medical bills
lost wages
etc.
Now what? Speak to an accident injury claim law office
After getting hit by a car while walking, the pedestrian should file a claim or lawsuit to get financial compensation for their injuries, property damage, etc.
And the best way to do this is to hire an accident law firm that specializes in this type of legal case.
Lawsuitbase will connect you with our national network of attorneys free of charge for a free no obligation consultation.
These car pedestrian accident attorneys take a percentage of the settlement when they recover financial compensation.
If they don't get it then they won't get paid.
Call the number to speak with someone now!
Emmanuel is a legal editor and contributor with over 10 years of experience working in the legal field.
He brings the experience that he gained from working with injury law firms on how to gain and better serve their clients and his personal experience as a victim of a car accident.
"I hope that my articles will help you get the information you are looking for."